Which Country Consumes the Most Spam?
We were intrigued to find out!
Since the start of Spam in 1937, it has grown into its own global empire expanding into more than 40 different countries. Hormel reported in 2012 that the company sold 8 billion cans and that number is still growing to this day. Today, younger generations see this spiced ham in a can as a nostalgic dish for older generations, but truth be told, Spam is still devoured and enjoyed around the world. With many island nations and countries consuming such large quantities of Spam, you have to ask, who eats the most Spam? 
Hawaii
Despite Hawaii having a population of 1.4 million people,  residents consume 7 million Spam products annually, with the average  person consuming five cans every year. Spam Fans know not to eat it straight out of  the tin can. In fact, Hawaiians take extreme pride in creating unique fast food comfort dishes, such as a local favorite known as Spam Musabi. This is a very popular specialty snack and lunch food, consisting of a mini slab slice of fried Spam on top of a block of rice hand wrapped with a Nori- blanket, the Japanese name for edible seaweed. Hawaii's obsession led them to create fairs like the Spam Jam Festival which is an annual event with attendance  of around 35,000 people. While the festival does bring together Spam lovers, it also serves to collect Spam and other canned products for the Hawaii Food Bank. 
Guam
After Guam was occupied by the Japanese and later liberated by the United States in July 21 1944; the residents of Guam including the Chamorro people were in need of food since the Japanese deprived them of rations and much needed supplies. Spam was deemed a solution to feed the country and soon it was integrated into their daily diet for many, many years. Guam is not just a country known for its deliberate and strategic military position, but they're also known for the astonishing amount of Spam devoured annually. To think Hawaii consumes 7 million Spam products every year is simply crazy or impressive depending on how you look at it, but there is no close comparison to a country like Guam which consumes astronomical amounts of Spam. Every year 16 cans of Spam are enjoyed by each citizen of Guam, making the tinned meat an island favorite.
A popular dish in Guam is Spam Kelaguen, made with Spam, onions, peppers, coconut, and lemon juice. Cilantro is typically added too, served with rice
The Philippines
Like many other countries and Pacific Islands, the love for Spam in the Philippines started back during World War II when Filipinos were fleeing their homes. With the United States stationed in the Philippines, Spam spread rapidly and soon it was on everyone's plate. Today, Spam is still a part of daily Filipino cuisine and it is estimated that 1.25 million kilos or a little more than 2.76 million lbs are sold each year. 
One popular dish is called Spamsilog, or Spam with rice and fried egg as it is a popular breakfast meal indulged by many Filipinos. 
South Korea 
In some areas of the world, Spam is considered food for the "poor." However, Spam  in South Korea is a "luxury" food. Like many other foreign countries, Spam was introduced during a time of war. Throughout the Korean War, the salty meat was incorporated into the diets of many South Koreans.
Just to show how popular Spam is in South Korea, in 2019 an article in The Korea Herald confirmed that "...CJ CheilJedang said Wednesday that it had sold around 1.2 billion 200-gram cans of Spam in the product's history -- the equivalent of 24 cans for each person in Korea." Now a luxury and delicacy meal, many South Koreans use Spam as a gift for others and is even served with Kimchi which is a staple in Korean cuisine. This unique dish is created by using slices of Spam, hot pepper paste and rice to make the beautiful, delicious Kimchi Fried Rice Musubi.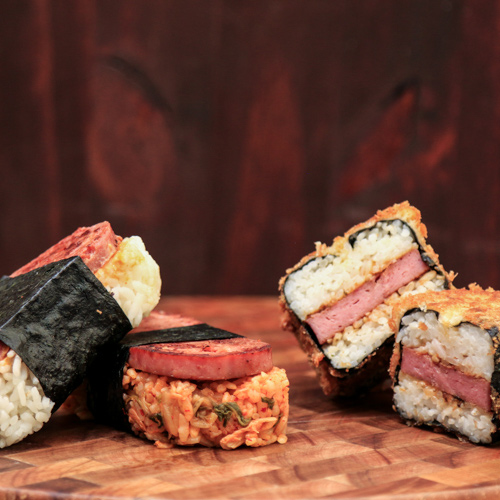 Kimchi Fried Rice Musubi is a well known Spam dish across South Korea. It consists of Nori, Spam, Kimchi, rice and butter.